Since artificial grass better fits the hectic modern lifestyle, it is gaining popularity. Artificial grass demands much less time and work than conventional lawns. Here are some trade-offs to consider when choosing the best option for your lawn when considering the benefits of natural grass.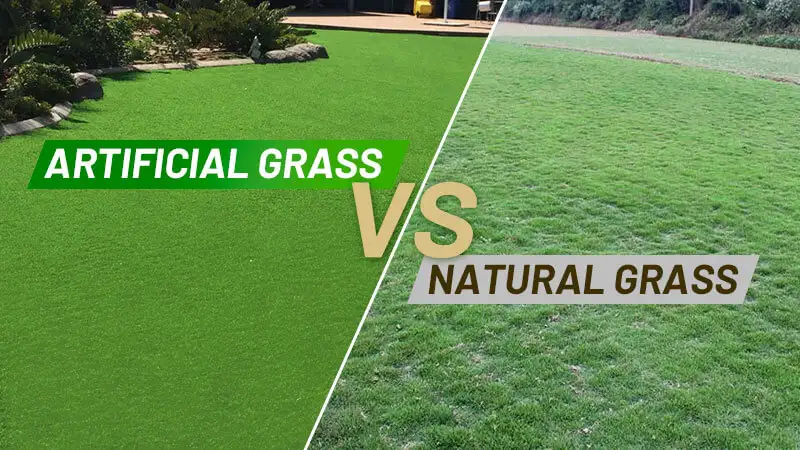 Pros of Artificial Grass
All-weather
All-weather artificial lawns are weather-proof, stay green all year round, and drain fast to prevent floods or standing water after heavy downpours.
Extensive uses
A lot of people utilize artificial grass. It can be utilized for various purposes and settings besides the garden, such as decks, swimming areas, roof terraces, play areas, offices, exhibition spaces, balconies, dining establishments, hotels, gyms, and more.
Safe for children and pets
The wonderful thing about synthetic turf is that you can select anti-bacterial Artificial grass to halter the spread of germs and bacteria. It is neat and orderly, cushioned and soft, making it ideal for playing on, and it doesn't need chemicals or pesticides, making it safer.
Cost-effective
When the revenue from outside bookings is considered, commercially available synthetic turf fields are a lifeline for schools and groups. Additionally, most playing fields can accommodate more than one sport; for instance, rugby and football complement each other very well.
Numerous colleges, towns, and amateur clubs have adopted CCGrass' multipurpose systems because they maximize functionality while lowering costs.
Even more advantages of synthetic turf for homes include no need for mowing, watering, or fertilizing, which saves your family money.
Cons of Artificial Grass
The initial cost
It costs money to install artificial grass. Most homeowners pay for consultation, artificial grass, and installation to achieve the greatest results. The amount of artificial turf you need to install will determine how much the project will cost. Anyone contemplating turf can benefit from our free evaluations and consultations.
Artificial grass absorbs heat in hot weather.
In warmer weather, artificial grass gets warm but doesn't burn. Even on a hot summer day, there are numerous simple ways to prevent your synthetic turf from being too warm. Learn about 5 techniques to cool artificial grass in this article.
Pros of Natural Grass
Natural and fresh air
Live lawns can enhance the air quality surrounding your home by removing dust and other impurities from the air, capturing carbon dioxide, and generating oxygen. Soil microbes also break down pollutants.
Natural grass has the potential to last forever.
Natural grass is a fantastic option for spending weekends in the garden and maintaining your outside spaces. What you put into a natural lawn is what you get. A well-cared-for natural lawn could last for many years.
Cons of Natural Grass
Not durable enough
Natural grass may not be suited for high-traffic places such as playgrounds, dog-friendly homes, and commercial spaces since it cannot sustain repeated use and trampling.
Easily can become an eyesore.
Since the grass is natural, the environment and weather significantly impact it, and it experiences seasonal yellowing spells. Poorly kept grass can encourage bugs, cause fungus growth, and lower the value of your home.
The Differences Between Natural Grass and Artificial Grass
The following will further detail the differences between Natural grass and artificial turf in terms of beauty, upkeep, cost, and environmental impact, in addition to the advantages and disadvantages outlined above.
Aesthetic
Natural grass aesthetics
A traditional lawn can undoubtedly give your outside space a more attractive and organic appearance, but maintaining genuine grass that is flat, green, and weed-free may be very easy with a lot of weekend time or a gardener.
Particularly in dry areas like northern Australia, western America, and the Middle East, having a lovely natural lawn is practically difficult without investing much effort and money. The grass in these locations needs irrigation at least twice per day.
Artificial grass aesthetics
Artificial grass may be tailored to your needs and preferences because it is available in various colours, heaps, lengths, densities, textures, threads, and design options.
Inspired by actual grass, CCGrass landscape creates grass in various shapes, colour hues, thicknesses, and unique combinations, all while ensuring that it has a variety of personalities and looks as natural as possible.
Care and Maintenance
How to maintain natural grass?
Natural lawns need intensive, ongoing maintenance. Maintenance on natural grass includes:
Mowing
Weeding
Fertilizing
Watering
Overseeding
Pest control
Try to maintain the proper PH level in your soil and select a seed mixture suited to your region's environment to get the most out of your grass. As a result, you'll need significantly fewer seeds, watering, and fertilizers to maintain your landscape.
How to maintain an artificial lawn?
Artificial grass requires almost less maintenance compared to Natural grass.
Regular artificial turf cleaning procedures involve:
Use a grass brush or a bristle broom to remove debris from the lawn.
Your turf is flushed every time it rains, but giving it a hose rinse occasionally can be helpful, especially during periods of low rainfall. This can help remove dust, pollen, and grime from the surface.
For areas that a simple rinse cannot clean completely, mix warm water with a household cleaner or sponge and rinse.
Brush it every now to make your artificial grass look lush and attractive.
Cost
Natural grass
High maintenance expenses are a result of complex maintenance procedures. Water, traditional fertilizers, and seeds all have significant ongoing costs. The expense of purchasing and using the mowers, weeder, and strimmer is also high. You could also need to engage a local landscaper to combat this.
Synthetic turf
Installing synthetic turf can be more expensive initially than installing natural turf. However, the cost of maintaining an artificial turf is virtually nonexistent.
The environment
The environmental impact of Natural grass
Natural grass needs a lot of water, particularly in the summer when it's hot. The benefits of grass in creating oxygen are considerably outweighed by the air pollution from the tools required to maintain lawns, such as gas mowers. The runoff could contaminate the neighbourhood if you apply pesticides and fertilizers on grass.
The environmental impact of artificial grass
Artificial grass is more sensitive than ever, especially with rising water conservation concerns. Natural grass requires much more water to maintain its green colour than artificial grass, and artificial grass also doesn't need fertilizers or pesticides. Lawnmowers do not emit any carbon because mowing is not necessary. Artificial grass is an environmentally beneficial choice because it requires no care.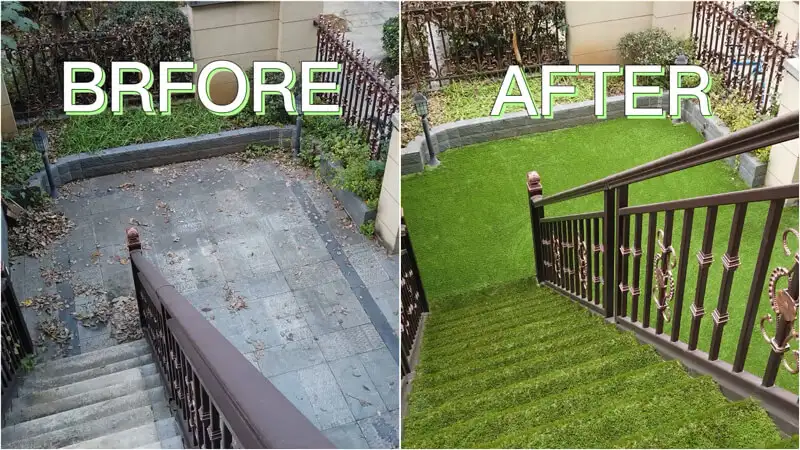 Natural Grass vs. Artificial Grass: Which Should You Choose for Your Lawn?
Some passionate gardeners like mowing the grass on a sunny Sunday afternoon as much as they enjoy caring for and maintaining their garden and taking delight in its look.
However, artificial turf is for you if you're open to a free weekend, more money in your pocket, and a "set it and forget it" landscaping alternative.
Artificial grass is a great option if you live in a dry climate and are busy with your job, family, travel, or both.
You can click our "Knowledge Center" column if artificial grass interests you and you want to learn more. For free samples and prices, call us at +91 99586 77005 or email info@gallantsports.in!