Children love to play in playgrounds outside, and parents always want their children to enjoy themselves on a secure and sanitary surface. There is no better alternative than playground turf if you want to design a warm, comfortable, and aesthetically beautiful kids' play area for your backyard or a nearby park.
To learn more about artificial turf and how to select the best playground turf, consult our in-depth guide to artificial grass for playgrounds.
Recognizing artificial turf requirements
You'll have a wide range of options when searching for playground turf, so it's important to understand the words used in the artificial grass market.
You can choose the best grass goods for the playground and design a special and lovely children's play area by knowing the product details and following our recommendations.
Materials for playground turf
What materials make up artificial grass? Initially, nylon (PA), then polypropylene (PP), and now primarily polyethylene (PE) were used to create artificial grass.
Polyethylene is typically used to make playground turf. Because polyethylene grass behaves most like actual grass and is soft and durable, it is perfect for playground surfaces.
Thatch layer
Premium landscape turf products are distinguished by a coating of curly, silky thatch that adds to the realistic appearance of the lawn while also making walking on it comfortable.
Artificial grass for playground pile height
The length of the tufts is typically expressed in millimeters (mm) and is measured from the top of the primary backing to the tips. The pile height you choose will typically depend on your preferences and how you want to use the grass.
Choose high-pile (30mm and higher) artificial grass if you want your lawn to look lush and abundant. For a garden that looks natural, the recommended pile height is between 35 and 50 mm.
Short-pile turf is The best turf for places with heavy foot traffic and frequent use. We advise choosing lawn products with piles of 30mm and lower for playground grass because playgrounds are subject to heavy, continuous use.
Gauge
The gauge, which affects your artificial turf's overall look and feel, is the distance between two lines of stitched artificial grass. The common gauge contains 3/4 inch, 3/8 inch, 3/16 inch, 5/16 inch, and 5/32 inch, most frequently measured in inches.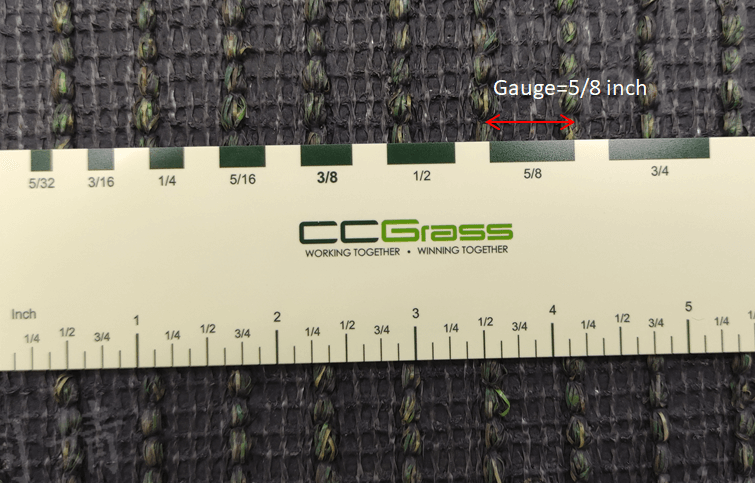 Stitch rate
The stitch rate is the number of stitches per 10 cm in the direction of the thread line. While a machine's stitch rate can alter, the gauge does not. The density of the grass increases with the number of stitches.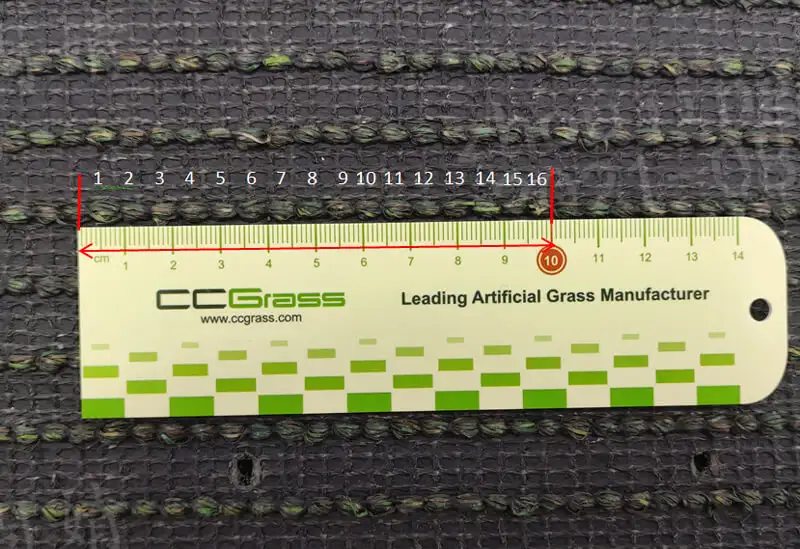 Face weight
The yarn in one square yard of grass weighs the same as the face weight of artificial turf. Turf goods with a higher face weight are denser and more resilient. The best artificial grass for a playground has a face weight of 70 ounces or more.
Drainage and turf backing
The backing's job is to ensure the fibers remain where they were tufted. This means that in order to produce the proper "tuft lock," they must be fixed in place. Various backings are available for CCGrass, including latex, PU, PRT, and RCX. Unlike latex and PU, which require drainage holes to be punched through the backing, the latter is 100% permeable and reusable.
The majority of playgrounds can get by with PU support. For locations prone to standing water, our PRT and RCX backings are more effective drainage systems, assisting in the creation of a safer, non-slip surface for children.
Antibacterial artificial grass for playground
An ingredient that eliminates germs is what enables artificial grass behavior. Our playground turf has undergone SGS laboratory testing and is made with patented antibacterial technology. The artificial turf's built-in antibacterial function prevents the development of bacteria and mold, giving kids long-lasting security.
Playground turf padding
For shock absorption, cushioning is added to the playground turf. For the installation of commercial playground turf, elastic layer pads are required. You must decide on a shock cushion while installing artificial grass for the backyard playground.
The artificial turf surface is given more cushioning and a softer feel by shock pads, which are entirely permeable and come in different thicknesses. This makes the space safer for youngsters to play in.
Advantages of synthetic turf for playgrounds
Kids' safest playing surface
Children frequently trip and fall while playing, but parents shouldn't worry. Playground grass offers a softer and safer surface than rubber, tiles, soil, and sand. More so than either, it also absorbs impact better. Children are less likely to sustain abrasions and injuries when they fall on turf surfaces.
Additionally, our artificial turf goods pass health tests such as REACH, RoHS, DIN, EN71-3, ASTM, etc., demonstrating that they are free of dangerous elements like lead, other heavy metals, and very concerning compounds.
According to the highest industry requirements for health and safety, CCGrass has earned the HEALTH qualification, meaning that our grass product has undergone testing for more than 200 substances.
Aesthetic appeal and versatility
For your kids to always experience a connection to nature, our playground turf has the appearance and feel of real grass, retaining the outdoor beauty throughout the year.
You can artistically design your playground space since CCGrass artificial grass for the playground is offered in many colors to meet the varied needs of different projects. Using several artificial grass hues, which may also be utilized to create patterns or fanciful walkways, you can modify marks to separate different zones and stimulate alternative play styles.
A cleaner play area surpasses natural grass.
When playing on actual grass, mud and grass stains are unavoidable, with several possible dangers. Natural grass could have chemical residues from herbicides and fertilizers on it, and some kids might develop allergies to natural plants, let alone to regular insect bites.
The muck, pollutants, allergens, and insects won't be present in playgrounds covered in artificial grass, giving kids a cleaner, healthier environment to play in.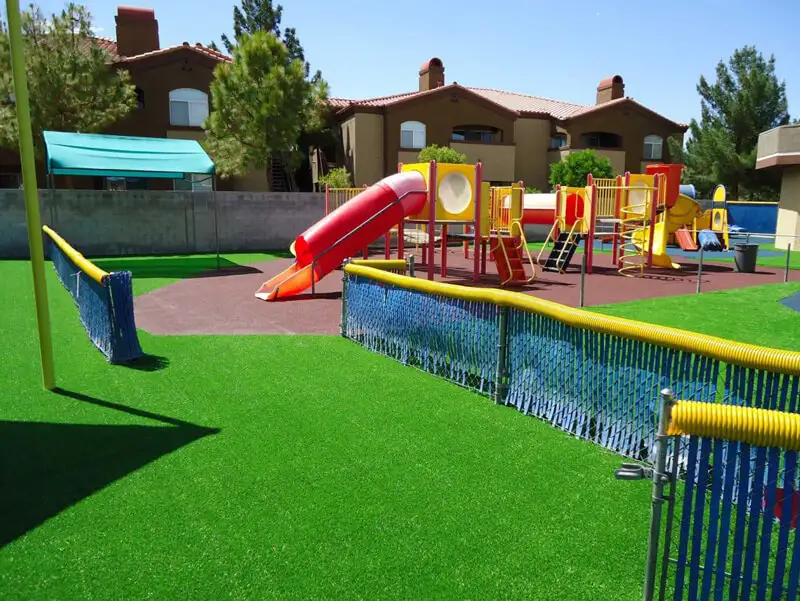 Unparalleled Sturdiness
Artificial grass is the ideal option for playgrounds for kids with a lot of foot traffic because of its unrivaled endurance. Our playground artificial grass may be utilized constantly all year long and has a life expectancy of up to 10 years while maintaining good quality.
Our playground turf, specially made for long-term and outdoor use, has the greatest UV protection to guarantee that it won't fade and damage in the summer heat, while strong stability prevents cracking during the winter.
Artificial grass is an environmentally beneficial choice because it requires no upkeep.
A sustainable, eco-friendly substitute is playground grass. Artificial turf requires much less water than natural turf and doesn't require any pesticides to keep healthy and green. Lawnmowers do not emit any carbon because mowing is not necessary.
Using artificial grass for your playground will save time and money on maintenance and upkeep. The long-term cost savings of installing artificial grass for playgrounds outweigh the initial costs of lawnmowers, fertilizers, and maintenance time.
Recommendations for the top playground artificial grass
We provide several turf surface alternatives for various playgrounds in both commercial and residential settings. Here are some of the items we think are great for playgrounds and recommend.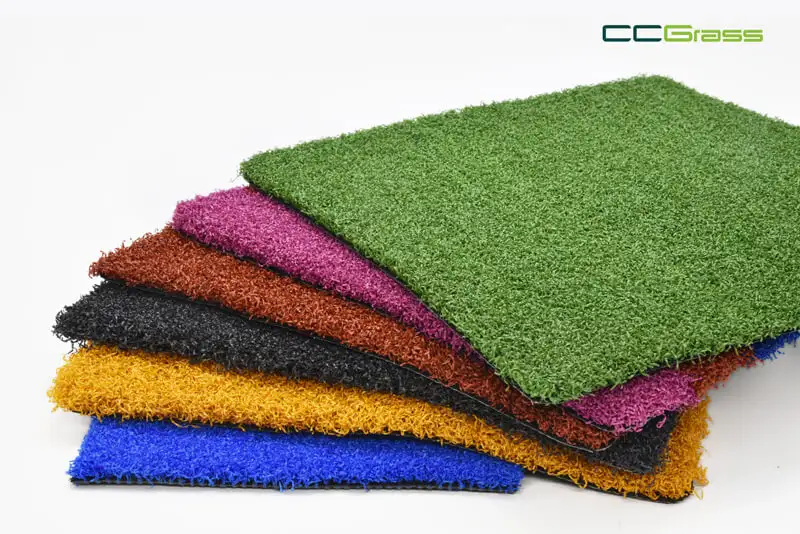 FastPro HF
This item is available in several vibrant hues, distinguishing the playground and giving kids a more imaginative space. A complete, compact, and incredibly durable product is produced using dense stitching and curly monofilaments made of 100% PE.
Highlights
Top performance versatile turf
Safety Guarantee
Multiple Colors
Extreme UV stability and durability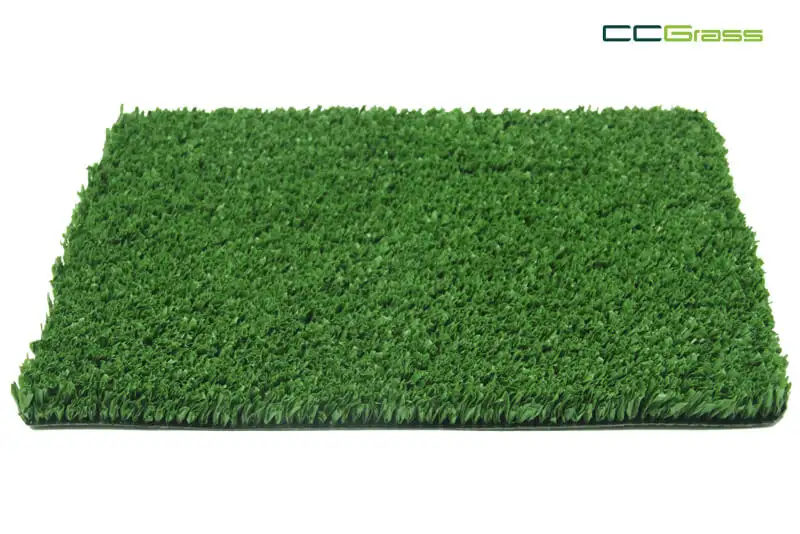 YEII is a lightweight, low-maintenance, and long-lasting alternative perfect for kid's playgrounds and high-traffic areas because of its distinctive fibrillating structure.
Highlights
Safe and durable
Color choice
Soft touch
Economical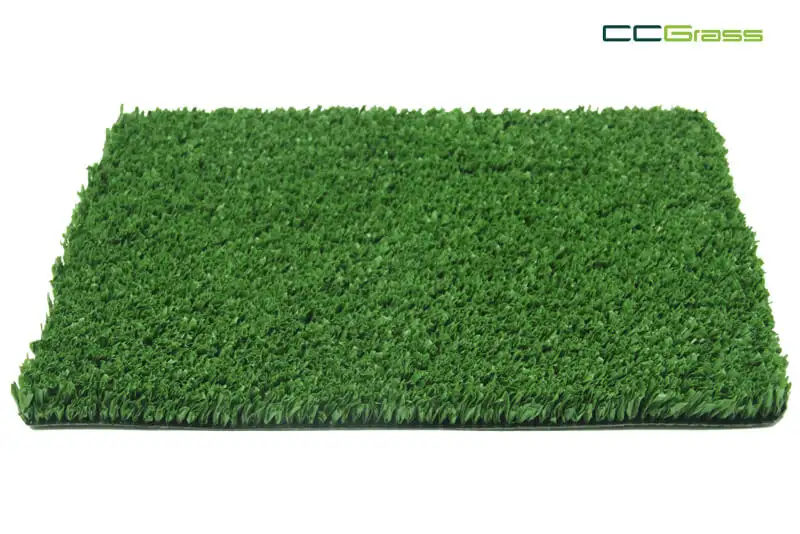 Classic
A classic is a terrific option for backyard playgrounds since it is soft, resilient, and has a unique C-shaped design with a stunning Dual-Arch structure. It is incredibly lifelike and offers bare feet a divine cushion because of the vivid green and numerous thatch layers.
Highlights
Safety Guarantee
Highly similar to natural grass
Soft and resilient
Pet-friendly turf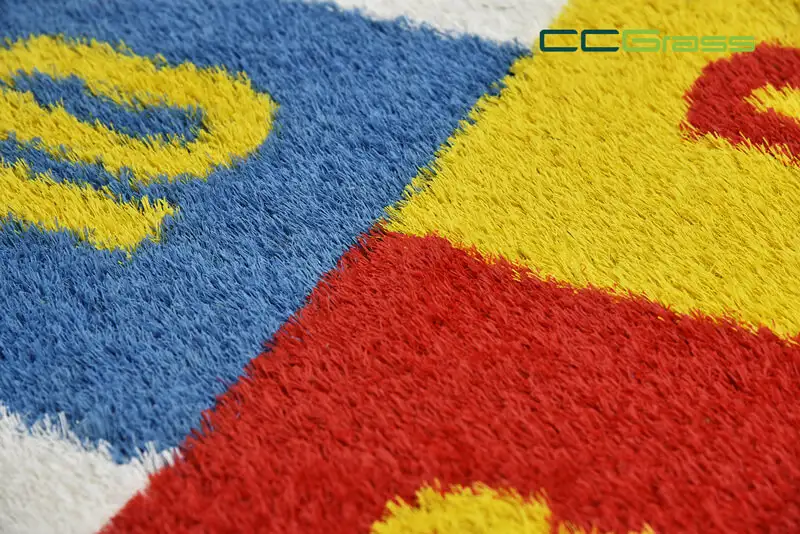 3D ART GRASS – Portable Hopscotch
Our vibrant 3D ART GRASS may be installed onto playground surfaces to create interactive play features. It is meant to include elements like numerals, letter trails, or hopscotch. Residential playgrounds and interior floors benefit greatly from the use of 3D ART GRASS.
Highlights
Vivid colors and pattern
Perfect for commercial &residential playground
Children's favorite playground
Childhood memories of adults as well
Conclusion: Artificial turf for playgrounds
If you want to give your children a nice and secure playing surface, an artificial lawn is ideal. You can use the information in this article to choose the best turf for your playground project.
Our playground grass provides the safest, most technologically advanced, and most practical surface. Call us at +91 99586 77005 or email us at info@gallantsports.in if you have any queries regarding the product or would like a free sample.