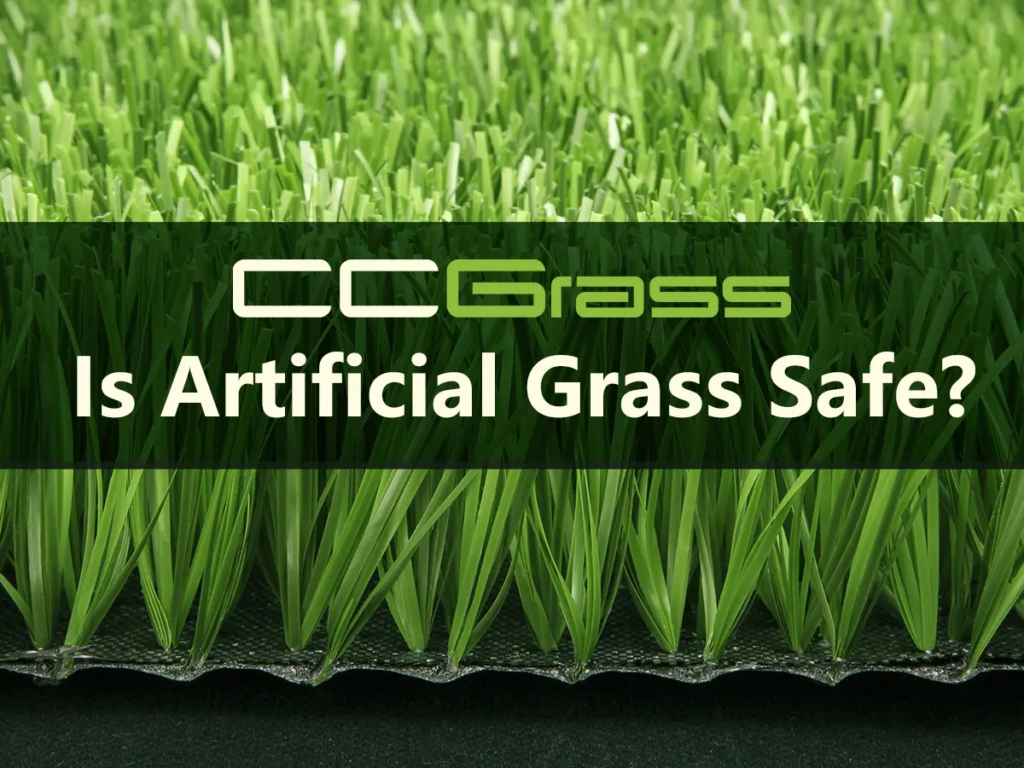 Why we need to talk about the safety of artificial grass?
Is artificial grass safe? The development of artificial grass has been a revolution technology in the industry and has become widely adopted by people because of lush, easy use and evergreen in recent years.
However, although more people are willing to choose synthetic grass, many others are still skeptical of the safety parts related to synthetic lawns. For the potential troubles of containing harmful compounds of artificial grass, risks of overheating, and adverse environmental impacts, many people are wondering that "Is fake grass safe?"
To be as concise as possible, the answer is "Yes, artificial lawn is safe." For more details, the answer is that whether synthetic grass is safe or not depends on the brand you choose.
Artificial turf for sports is usually composed of grass fibers, infill and shockpad (optional), focusing on the performance of the whole system. Artificial grass for landscape usually consists of grass fibers and sand infill (optional). However, the materials used are vary from company to company, from fibers to infill.
The applications of CCGrass artificial turf
In conclusion, the answer of "Is artificial grass safe" is positive, and it doesn't increase health risks. But CCGrass believe we can do more about the safety of our artificial turf, and this is the reason that we always try our best to apply high quality materials and produce a safe product that are safe for your health and the environment.
Here are some aspects that we CCGrass are more outgoing than other products.
Is artificial grass safe for the family?
Is artificial grass safe for children? Is artificial grass safe for dogs? It's a big concern for many families. All of CCGrass products pass the Health Testing includes REACH, RoHS, DIN, EN71-3, ASTM, etc., which can prove our artificial grass doesn't contain any harmful components, such as lead, heavy metals and substances of high concern.
CCGrass is very strict in the choice of raw material, using the purist quality that family members, especially kids can touch and play on safely. Thus, "Is synthetic grass safe" can be answered. Artificial turf definitely can be used in the family with kids and pets.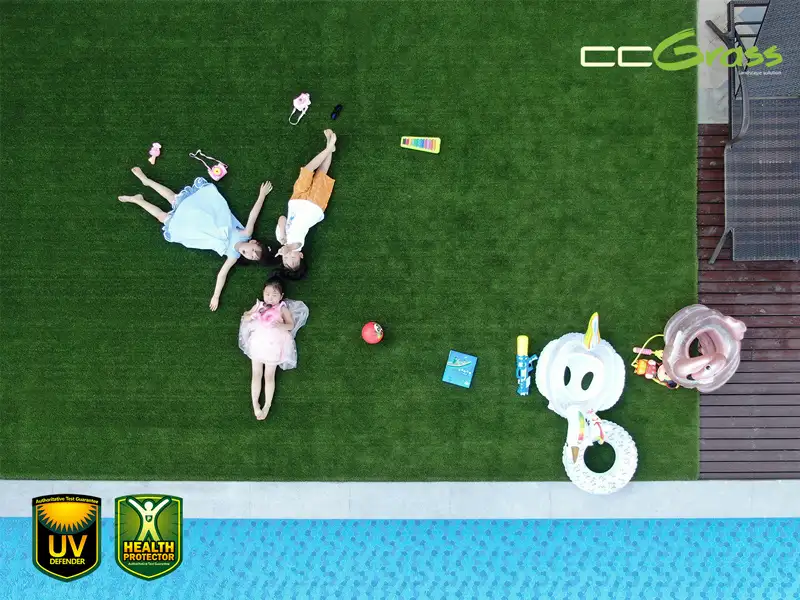 In fact, with the non toxic artificial turf, you don't need to worry about kids and pets' safety. Also, not only synthetic grass is non-toxic, it is also non-allergic. Many children and pets are allergic to grass pollen.
But CCGrass applies anti-bacteria technology that artificial turf will not produce pollen and other bacteria, so it is healthy for kids and pets to play on it. What's more, fake grass protect children from falling as high as 5 feet, that's the major improvement of artificial grass.
Is artificial grass safe for players?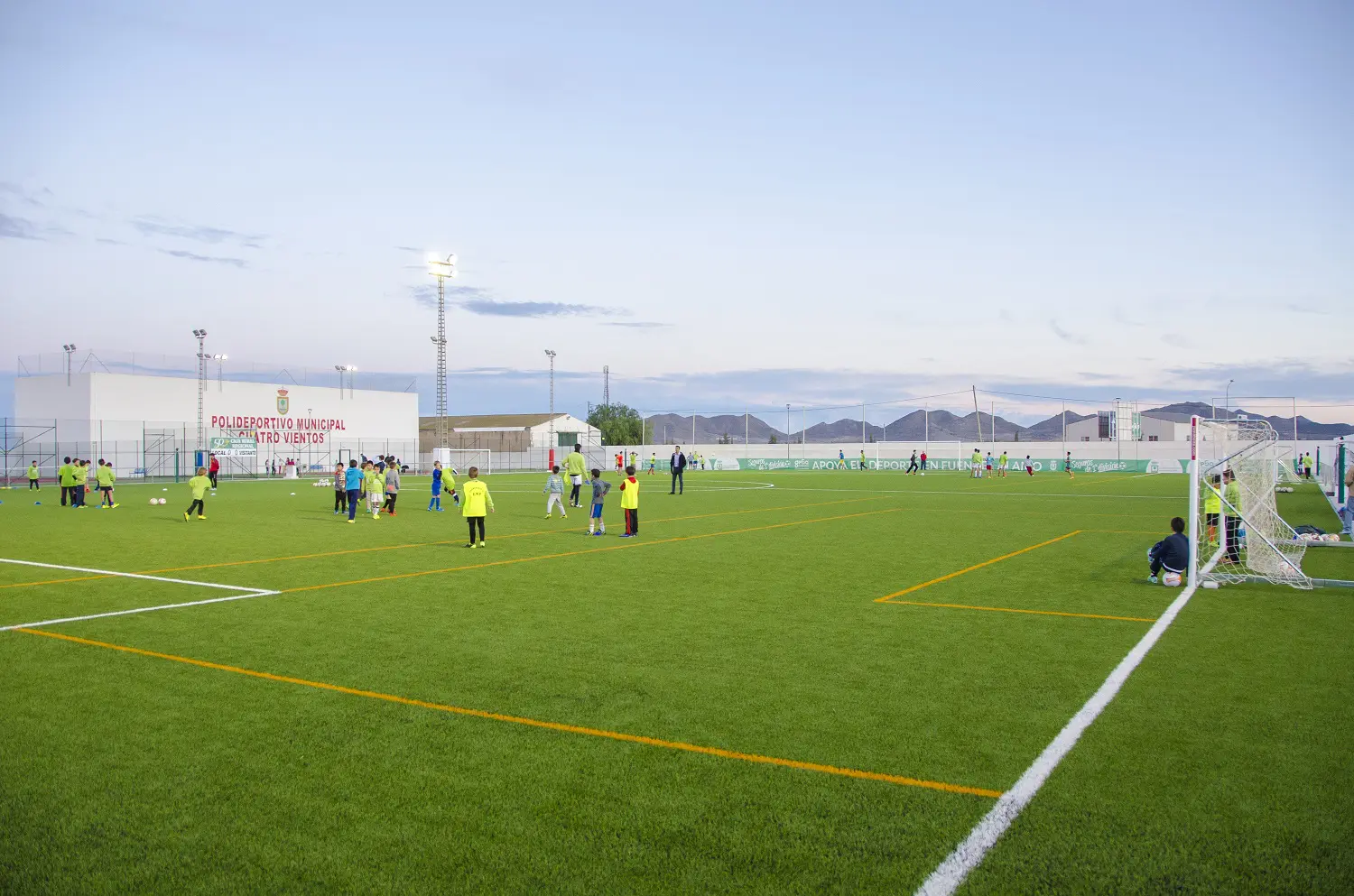 • Safer performance infill
SBR is most commonly used for infill in turf for contact sports to provide shock absorption and other characteristics. With the development of the artificial turf industry, there are more types of infills to choose from. It is note-worthy that CCGrass uses varies infill, we have nature infills, such as cork and coconut, these belong to organic infill which is environmental-friendly.
• Diverse system options
CCGrass has multiple sports system options to meet virtually any client's needs including Less infill and Non-infill systems. Less infill refers to the system with curly or fibrillated yarns in the system. Two benefits are provided by curly/fibrillated yarns, first is when infilling, less infill can be used. Second, the existence of curly/ fibrillated yarns is easier to lock the sand, thus reducing the use of infill.
• More durable products
CCGrass produces many more durable products, such as Superb and PrideUp, with an expected use-life over 12 years. Especially Superb, the most durable yarn in today's sports market, exceeds 25,000 cycles in the Lisport XL test while retaining good shape and showing no signs of wear.
Is artificial grass safe for the earth?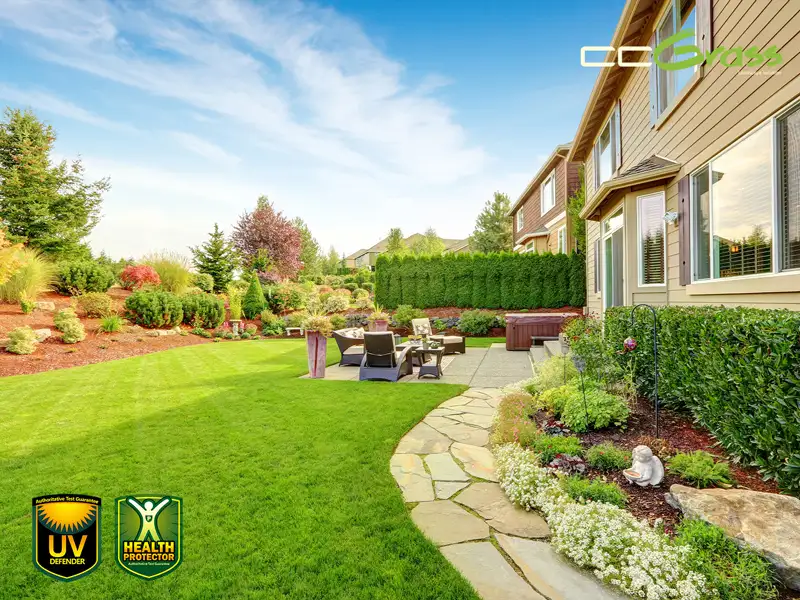 We at CCGrass take our environmental responsibility very seriously, which is why we take measures beyond just supplying turf. One of CCGrass´s responsibilities is to help ensure a sustainable solar supply chain. In support of this mission, CCGrass has taken proactive steps to promote environmental and social responsibility, within the industry, by installing the biggest power plant in Huaian, China.
Compared with natural grass, synthetic lawn also has many benefits. For example, artificial grass is easy to format, not affected by the weather, evergreen, without use limitation and less maintenance, etc. However, nature grass needs more preparation, easily influenced and harmed by the weather. Thus, synthetic grass is an ideal choice for sports and leisure use.
About Innovation
CCGrass is committed to offering solutions to public concerns. The PRT® series is an innovative 100% recyclable artificial grass that is eco-friendly, safe and healthy for users. No Latex, No PU and No Coating are its special characteristics.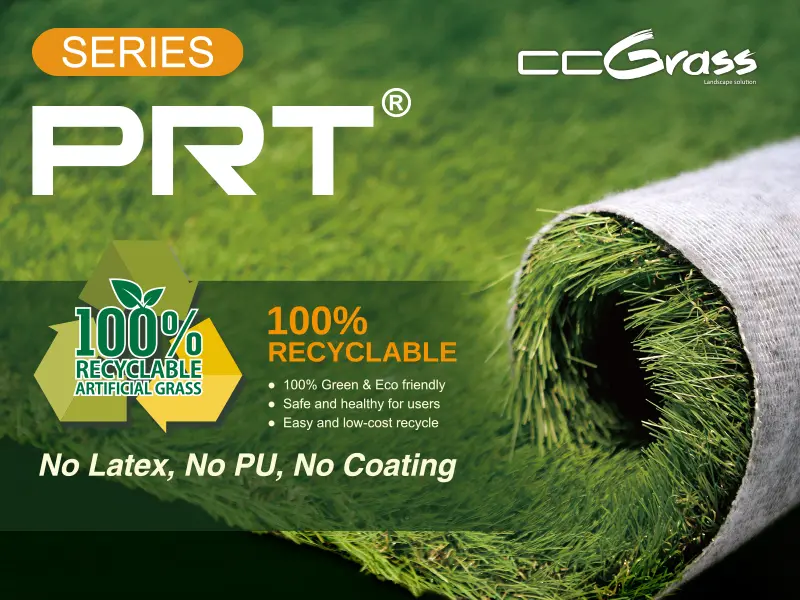 Ends
Even if the question of "Is artificial grass safe" exists, synthetic grass still can be a safe choice for you. CCGrass always pay attention to the quality and safety of products, all products have passed related test and got certification as well. Call us at +91 99586 77005 or email us at info@gallantsports.in to find out more today!